Elton John officially opens Leeds arena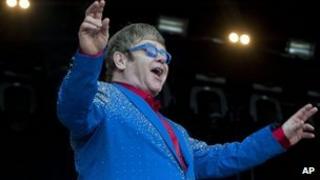 A concert by Sir Elton John has officially launched a £60m music and events arena in Leeds.
The 13,500-seater First Direct Arena Leeds hosted the 66-year-old star's first gig in the city since 1984.
Bruce Springsteen "road tested" the venue in July, his first time in the city since playing an open-air concert at Roundhay Park in 1985.
The fan-shaped arena on Claypit Lane in the city centre took two years to build.
Sir Elton, who has sold more than 250 million records, recently won the first ever Brits Icon award, in a gala concert which marked his stage return after surgery for appendicitis.
Leonard Cohen, Vampire Weekend and Leeds band Kaiser Chiefs are among other acts booked to play at the arena in the coming months.