Meat cutting plant in Bradford shut over hygiene fears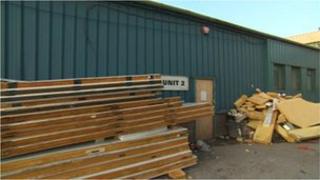 A meat cutting plant has been raided and ordered to shut by environmental health officers over hygiene fears.
Bradford City Council seized a quantity of chicken from West Yorkshire Lamb, Beef and Poultry, stating it had not been produced in "hygienic premises".
Food safety officers also obtained a court order for the meat to be destroyed and for the premises to close until it meets legal requirements.
The BBC has been unable to contact the firm for a comment.
The council has advised businesses who have bought meat from the company to destroy it.
Councillor Andrew Thornton said: "Bradford Council's Environmental Health officers are working hard to ensure that the safety of the public is not put at risk.
"Businesses which buy wholesale meat must have the confidence that the premises where that meat is prepared is hygienic, meets all the standards required and is properly registered."
Wholesale meat cutting plants must be approved by the Food Standards Agency.
Council, police, and Food Standards Agency officers raided the property together with Home Office Immigration Enforcement officers.
Five suspected immigration offenders were arrested.