Bradford One In A Million free school begins teaching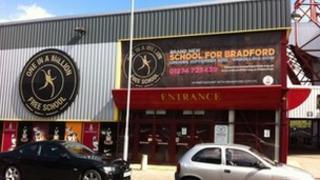 A Bradford free school has opened its doors to students a year later than originally planned.
The Department for Education signed a funding agreement meaning the One in a Million Free School opened on Monday.
The secondary school had been due to open last September but funding was withdrawn because it had failed to attract enough pupils.
The school confirmed there were 60 students registered for lessons on Monday morning.
The school is located close to Bradford City's ground, in the former Bradford City shop and Bantams Business Centre at Valley Parade.
A spokesman for the Department for Education said the school's staff had "shown great commitment and energy".