Bronze Age urn arrives at Cliffe Castle museum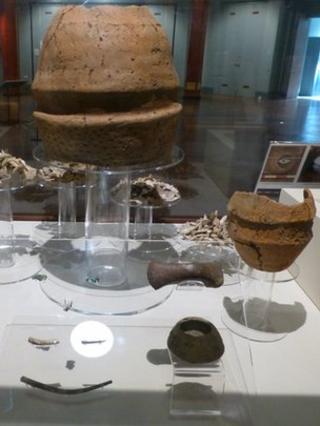 A Bronze Age urn unearthed in West Yorkshire during 2007 has gone on display after a lengthy renovation.
The urn, found at a farm near Keighley, was declared treasure trove and bought by the Friends of Cliffe Castle Museum in the town.
It contained cremation ashes of a young man, while two other urns alongside may have contained food or incense.
Councillor Susan Hinchcliffe said: "These urns make a valuable addition to our collection."
The council said collared urns were used during the early part of the Bronze Age and investigations showed the remains were about 3,800 years old.
The discovery was made in what appeared to have been a burial site. The cremation urn was lifted out of the pit in one piece and was two feet (0.6 metres) tall.
Discovered along with the urns were a polished stone battle axe, bone pin, belt hook and the melted remains of what could have been bronze ear-rings.
The beginning of the Bronze Age in Britain was around 2,000 BC.