Leeds foodbank shuts after demand leads to space shortage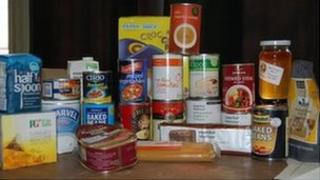 A foodbank in Leeds has been forced to temporarily close because it does not have enough space to hold the amount of food needed for struggling families.
The Leeds West Foodbank at St George's Crypt has shut until new premises are found capable of storing the amount of food required.
St George's Crypt said the number of people using it had more than doubled since it opened in March.
People are still able to collect their food from another service in Armley.
The foodbank, which is run by The Trussell Trust, works by redistributing donated food to people who are going through a financial crisis.
Chris Field, chief executive of St George's Crypt, said when the service first opened it was expected up to three families a day would use it.
"We're seeing between seven to 10 families a day, each typically requiring enough food for three meals a day for four people," he added.
"We only have one little store room so when you look at the physicality of numbers and the fact that there's four carrier bags per family five days a week, then you've almost got a coroner shop going.
"We don't have an issue with the food, we have an issue with the health and safety of managing it in the space we have."
Mr Field said The Trussell Trust was now looking at setting up the foodbank to operate from four different churches on a daily basis.
"It's really quite a good move because it frees up more space and shares the burden of finding volunteers to run it," he added.