William Henry Smith School agrees abuse settlement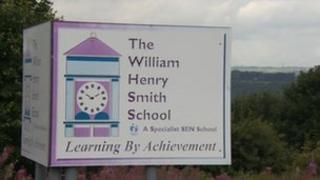 An out-of-court settlement has been reached for 30 former pupils of a West Yorkshire school who claim they were abused there.
The alleged abuse took place at William Henry Smith School in Brighouse in the 1960s, 70s and 80s.
Nobody has been convicted in connection with the allegations.
The school governors said they were "saddened" by the allegations which "did not lead to any convictions" and "no admissions of liability" were made.
Alan Collins from Pannone Solicitors, representing the former pupils, said he had secured an undisclosed sum to be paid to his clients.
The residential school for boys with special educational needs opened in 1961.
'Measure of justice'
"From the victims' perspective it's recognition that they were harmed while they were pupils at the school, and that for them is the most important factor," Mr Collins said.
"They have been engaged in a long fight going back many years to try and get justice.
"The police investigated, there was a criminal prosecution that did not result in a conviction, so the only course left to them was to bring this civil case.
"We finally got a measure of justice for them."
The statement from the school's governors added: "We consider the welfare and care of every child and young person essential."
It also said the school had "been judged outstanding by Ofsted in recent times".