Coronation Street star Chris Fountain sacked over masked rap video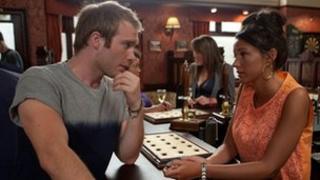 Coronation Street actor Chris Fountain has been sacked by the soap following his exposure as a masked rapper who posted strongly worded videos online.
The YouTube clips showed the 25-year-old rapping about sexual violence in the guise of his alter-ego "The Phantom".
In a statement, the actor said ITV "had no choice" but to sack him.
He said he was "mortified" to "have brought so much embarrassment to my colleagues and employers".
An ITV spokesman said the actor's contract had been terminated "as a result of the unacceptable comments he made in a number of online clips".
The clips, which are no longer available to view on YouTube, featured Fountain wearing a Halloween mask, miming stabbing motions and claiming he was "bored with fame".
Last week the actor said the videos had been made "over a year ago" when he had been "experimenting" with music.
Fountain said he had "two wonderful years" playing the role of Tommy Duckworth and had "only happy memories of my time on Coronation Street".
"My biggest regret however is not to do with losing my job, but that I have hurt and let down so many people including those in a vulnerable situation and I am so very deeply ashamed of this.
"The lyrics that appeared online were influenced by a style of hip-hop that I was experimenting with at a private freestyle session and blurted out in a moment of madness.
"There is absolutely no excuse - I take complete responsibility for my actions - but they were in no way thought out or represent at all my attitude towards women, rape and violence."
Previously seen as Justin Burton in Hollyoaks and as a contestant on Dancing on Ice, Bradford-born Fountain joined Coronation Street in 2011.
According to the Daily Star, an extra scene has already been filmed explaining his character's departure.