Bradford resignation councillors want respect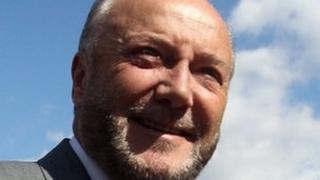 All five Respect Party Councillors on Bradford City Council say they have temporarily resigned the party whip until its charismatic local MP George Galloway apologises for accusing them of being disloyal.
The row surfaced earlier this week when the councillors voiced their concerns that - just 18 months after George Galloway's breathtaking by-election win in Bradford West - he has indicated he wants to run in the London Mayor elections in 2016.
They feel he is using Bradford as a platform for his wider political ambitions rather than giving his full attention to the problems of one if the most disadvantaged parts of the country.
Two of the councillors were immediately suspended by the party's national secretary and George Galloway later wrote in an online article that they were under investigation for plotting a takeover of the party in Bradford.
All five councillors, elected in a surge of local support for Respect three months after the by-election, have angrily dismissed George Galloway's claims as nonsense.
They have given him until Monday to retract his comments or they said they would resign from Respect for good and sit on the council as independents.
There appears little hope of any reconciliation.
George Galloway has responded to the news on Twitter: "I think that means they will be disloyal until I apologise for saying they were..disloyal #couldntmakeitup".
The five councillors, who were key figures in creating the wave of post by-election support which George Galloway famously boasted to be the "Bradford Spring", say they will give no interviews until Monday's deadline expires.
Privately they expect to see the break-up of the local party.
So far there has been no official comment from George Galloway or other Respect Party leaders on these latest developments but a statement has been promised by national secretary Ron McKay.