Mystery offer could see Shay Stadium sold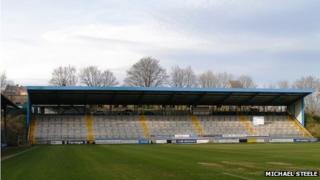 A private company has bid to buy Shay Stadium in Halifax, home to the town's football and rugby league club.
Its current owners, Calderdale Council, said it would consider the offer from the unnamed potential buyer.
The stadium is the home of FC Halifax Town and Halifax Rugby League Football Club.
The council said the mystery bidder had "a strong interest in sport in Calderdale". The ground is not on the general market, it added.
Councillor Tim Swift, leader of the council, said: "It's vital that the stadium continues to thrive.
"We will be considering very carefully whether this offer represents a good way to secure future investment in the stadium and guarantees its continued use by both professional clubs."
Michael Steele, chairman of the rugby club, said: "I don't know anything about an offer but appropriate private sector management would be in the better interests of the clubs rather than council management in the long term."
FC Hailfax Town said no-one was available for comment.