Ilkley animal charity 'could close' over donations site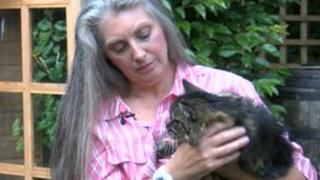 An animal charity has said it is in danger of closing because of financial concerns over a fundraising website.
The Charity Commission suspended the website CharityGiving last month after it found it did not have enough money to pay charities what they were owed.
West Yorkshire Animals in Need (WYAIN) said it had not received more than £1,700 raised through the website.
Co-founder Tommi Townsend said they needed the money to pay vets bills and buy supplies for their rescue animals.
'Extremely serious'
WYAIN is an animal welfare charity with an annual income of about £23,000 based in Ilkley, West Yorkshire, which helps re-home animals and provides welfare advice.
Ms Townsend said it signed up to receive donations through CharityGiving 18 months ago but had received none of the money pledged to it since March.
"We're in real danger of having to close down," she said.
"It's extremely serious, it means we can't afford to pay vets' bills, we're going to struggle feeding the animals, buying cat litter, specialist medication."
'Unusual case'
The Charity Commission began an investigation into the Dove Trust, which runs the CharityGiving website, because of concerns the organisation had not filed any accounts since 2009.
It found a shortfall of at least £250,000 between the Dove Trust's funds and the money owed to charities.
Sarah Miller from the Charity Commission said: "It's quite an unusual case where an investigation into concerns about one charity has very unfortunately had some knock-on effects for some other charities.
"We know that some charities have recovered their money, but some understandably are concerned about whether they will get the money that has been fundraised for them."
She said the investigation was continuing and "could take some time".