Union criticises West Yorkshire plan for temporary firefighters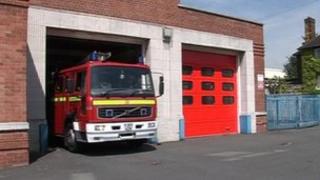 Plans to recruit temporary firefighters to cover a possible strike in West Yorkshire have been described as "really worrying" by the Fire Brigade Union (FBU).
West Yorkshire Fire and Rescue Service (WYFRS) has advertised for Community Response Officers for emergency cover.
The crews would be used if FBU members go on strike in the autumn over planned changes to firefighters' pensions.
The service said the recruits would "complement other firefighters".
An advertisement on the fire service's website said contingency firefighters would be paid £10 per hour during training periods and £150 per shift worked.
'Not sufficient'
The vacancy said that people applying for jobs as fire engine drivers needed to have an existing Light Goods Vehicle (LGV) licence and be "an experienced LGV driver".
Steve Rhodes, assistant chief officer at WYFRS, said recruits would receive three weeks of training and would be working with experienced fire crews.
He said: "They will be able to attend the regular types of incidents that we respond to from a fire and also road traffic collision and deal with those incidents as appropriate."
Dave Williams, FBU secretary in West Yorkshire claimed the training planned for the temporary firefighters was "not sufficient".
"At the moment we have an eight-day course for all drivers," he said
When individual firefighters have passed the test they have to build their hours up.
"They tend to just drive around going to community fire safety or fire safety checks before responding to blue light incidents," he added.
The FBU strike ballot is due to close on 29 August