West Yorkshire Police warning over illegal M62 upgrade use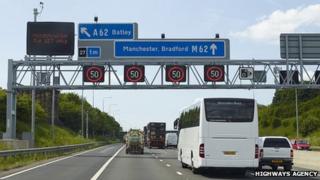 Motorists who ignore road signs on a stretch of managed motorway face potentially "catastrophic" consequences, police have said.
Drivers on the M62, where sections of the hard shoulder are open during peak times to ease congestion, are using the extra lane illegally when it is closed.
Overhead message signs tell drivers when the hard shoulder is in use.
Inspector Dave Peach said: "The consequences of not complying with [signs] could be catastrophic."
The warning from West Yorkshire Police comes as a second stretch of upgraded motorway was opened between junction 25 near Brighouse and junction 26 near Bradford.
Between the two junctions, the hard shoulder is permanently in use as an additional lane.
However, between junction 26 and junction 28 near Leeds the hard shoulder is only used during peak periods. Overhead signs state when it is in use.
Insp Peach said: "Red Xs will be used when we do not want people on the hard shoulder or indeed other running lanes."
He said that when the hard shoulder was open for use the red X would provide "initial protection" for motorists whose cars had broken down.
Highways Agency project manager David Pilsworth said: "There's a bit of ignorance and people just need to educate themselves."
Drivers face a £60 fine and three points on their licence if caught using the hard shoulder when it is not in use as an additional lane.
The £136m scheme to create managed motorway between junctions 25 and 30 near Wakefield is expected to be completed by October 2013.