West Yorkshire Police hunt for rapist absent from trial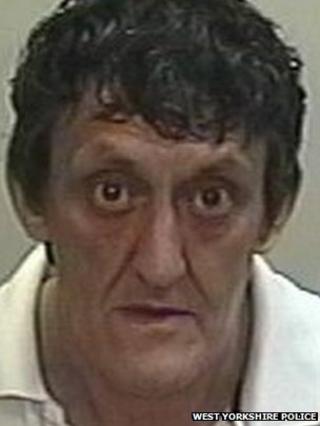 A man has been convicted in his absence and sentenced to 10 years in prison for raping a teenager.
George Doulat, 56, from Filey, in North Yorkshire, failed to attend his trial at Bradford Crown Court.
But he was convicted of rape, attempted rape and sexual assault against a 19-year-old woman in Bradford in 2012.
Police have appealed for help to trace Doulat who is described as white with a dark complexion, about 5ft 9ins (1.75m) tall, with black hair and no teeth.
He has tattoos of a panther's head and a rose with "George" on his left arm and tattoos of a swallow, two hearts and a rose on his right arm.
Originally from Bradford, Doulat has been living in Filey recently.
The public are advised not to approach him but to contact police immediately on 999.
Det Insp Joanne Morgan said: "It is vitally important now that we find him so he can be made to face the consequences of his actions.
"We would urge anyone who sees him or who knows where he is to let us know immediately.
"Anyone who is assisting him should appreciate that they will also face arrest and prosecution."