Clean-up begins in Walsden in Todmorden after floods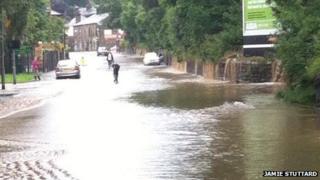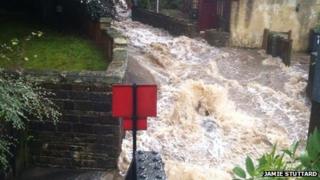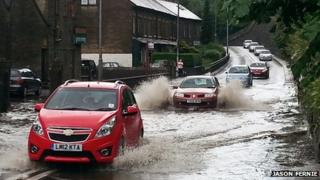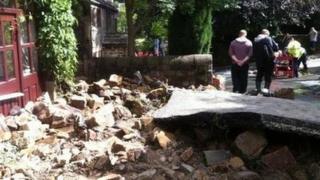 A major clean-up is under way after a flash flood burst through homes and severely damaged roads in a Pennine area of West Yorkshire.
Walsden, in Todmorden, was hit by up to 18in (46cm) of water on Monday night.
The flood caused "sheer devastation", according to residents, as it poured from a culvert and down a side street, ripping chunks out of the road surface.
Total rainfall in the area on Monday was more than half the monthly average for July, Calderdale Council said.
About 20 homes are thought to have been flooded.
Most of the damage to properties was caused by sewage, flood water and silt in cellars and the ground floors of homes, the council said.
'Sheer devastation'
Walsden resident Roger Stansfield, who was cleaning up his property on Tuesday, said: "It started raining really heavily and within 15 minutes this road was completely flooded to the depth of my wellington boots.
Flood warden Keith Crabtree said an "unprecedented" amount of rain had caused "sheer devastation".
He said: "Every road in and out of Todmorden was flooded and there's still a lot of water coming off the hillside.
"It happened so quickly. The floods 12 months ago took three days to build up.
"This one, we just got three-quarters of an hour of cloudburst and there's just nothing you can do about that."
'Really scary'
Becky Morville, who is six months pregnant, said she vainly attempted to hold back the tide as the ground floor of her home was engulfed.
"It was really scary. I had to push my back against the door with my feet on the stairs just so the door wouldn't come through.
"But then it all started to come up through the front room and through the skirting boards into the kitchen."
During the flooding, railway lines were submerged and Walsden railway station was closed for several hours as maintenance crews repaired the tracks.
Flood alerts for Todmorden and Walsden have been lifted but residents should monitor local forecasts, the Environment Agency said.
Teams were working to prevent any further flooding by clearing debris from streams and unblocking culverts, a spokesman added.