Todmorden flash floods amid torrential rain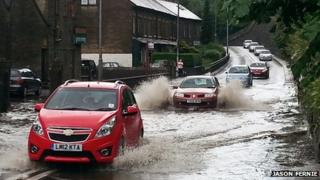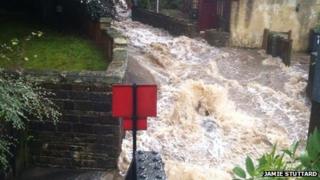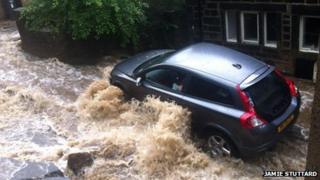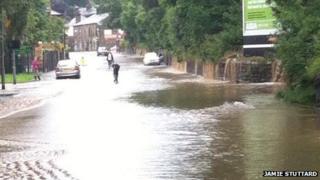 Several properties in Todmorden, West Yorkshire, have been hit by flash floods during torrential rain.
A flood alert for the River Calder and its tributaries from Todmorden to Brighouse was issued by the Environment Agency at about 17:45 BST on Monday.
River levels had risen rapidly during what residents said was a torrential downpour, according to the agency.
Clean-up operations were under way on Tuesday after at least 19 properties were flooded.
Fire crews had pumped out some of the properties.
Flood warning sirens had been sounded as a precautionary measure in Todmorden and nearby Walsden.
Some properties in Walsden also suffered flood damage.
While river levels have peaked, further rain is expected later.
The Environment Agency had been monitoring river levels in the area during the night.
West Yorkshire Police said people should avoid the areas of Todmorden that were badly affected.
Officers had feared waves caused by vehicles being driven through flood water would cause damage to houses.
Following the flooding, the A6033 Rochdale Road in Todmorden was closed because of a landslip around Hollins Street.
Traffic cannot get to the town's railway station.
Transport officials said buses were being used instead of trains between Hebden Bridge and Rochdale.
They added that replacement buses could not call at Walsden station and the disruption could continue into the afternoon.