Ossett cafe owner 'warns' customers she is black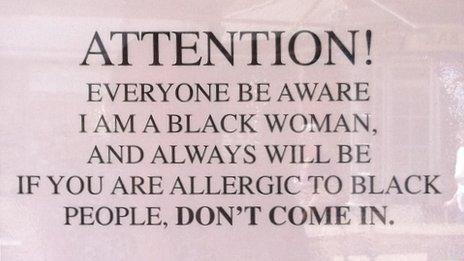 A cafe owner has put up a sign telling customers she is black because she is fed up with people walking out when they see the colour of her skin.
The sign on the door of Yeanon Cafe in Ossett, West Yorkshire, reads: "I am a black woman... If you are allergic to black people, don't come in."
Martha-Renee Kolleh said some people "take a look at me and walk out".
Local councillor Tony Richardson said he was "shocked" as he did not believe racism was widespread in the town.
A spokesman for Wakefield Council said it was "obviously concerned" by the issue which it had not been made aware of before.
"I would urge the business involved to get in touch with us as soon as possible," the spokesman added.
Figures for ethnicity from the 2011 Census show that of Ossett's population of 16,116, 97.5% (15,724) were recorded as white.
Ms Kolleh said the reaction to the sign, which adds that the cafe serves "quality wholesome meals", had been mixed.
"Some people find it amusing, they were laughing and said 'oh yes it's about time you put that up', so I think they all realise what's going on here," she said.
"And some others just read it and walk away. I've heard one or two swear words as well regarding the notice."
The single mother-of-three has run the cafe for two years, serving a mixture of British, African and Caribbean food.
Ms Kolleh told BBC Radio Leeds a lot of people in Ossett had supported her, but if business did not improve she would have to close by autumn.
She said: "I put [the sign] there because of the way people treat me in Ossett.
"They just open the door of my cafe and once they take a look at me they walk out.
"I hired a white woman called Tracey. When Tracey is in the cafe she does well and people will come in and it will be full, once I stay in the background.
"But if Tracey is not working and I'm working nobody comes in."
She said it was not her intention to accuse the whole town of being racist.
"There are some very nice people in Ossett and they've been very very nice to me."
Labour councillor Tony Richardson, who represents Ossett on Wakefield Council, said he was "utterly appalled" when he saw the sign.
"It has shocked me very much," he said. "I have spent 20 years as a trade unionist and fought against this sort of attitude and I certainly won't put up with it in Ossett.
"We have got to say it potentially could smack of racism and if it does we have to crush it with everything we have got."
He said he hoped to meet Ms Kolleh to give her his "full support and offer her anything she needs from me".
Mr Richardson stressed that he believed most people in the town would support Ms Kolleh.
"I am absolutely certain there is not a problem in Ossett. I have met thousands of people in Ossett and they are wonderful people, very diverse," he said.
Related Internet Links
The BBC is not responsible for the content of external sites.