Petition over rise in Manningham area street sex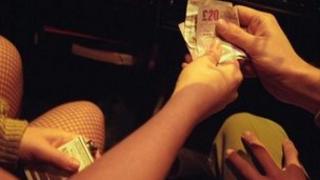 A rise in street prostitution in an area of Bradford has prompted a 1,591-name petition of complaint to the city council.
West Yorkshire Police confirmed the number of arrests related to kerb crawlers and prostitution within the last couple of months had increased.
A senior officer said there had been 52 arrests in the last three months, 31 of those for kerb crawling, in Manningham.
Now Bradford City Council will discuss the issue at a full meeting on Tuesday.
Supt Vince Firth, of West Yorkshire Police, said officers had recorded an increase in the volume of street prostitutes in the Lumb Lane area of the city in the last three months.
Supt Firth said: "Lumb Lane has had an association for a long time to prostitution.
"We have seen, over the last few months, an increase in prostitution in that area."
He said officers had started to take action to tackle the problem.
He added: "A couple of months ago you'd only see the occasional woman working in that area and it got about half a dozen women working in that area.
"Now, in that area alone, we've made 52 arrests all associated to prostitution.
"We've dealt with 31 people for kerb crawling and what these men, and it usually is men, need to think about is that this can potentially have a real affect on their life.
"Clearly, lots of these men are married. It can affect their employment because their employers would end up getting notified and at the bottom of all of this, these women are vulnerable people and they (men) are performing a form of abuse on these women."
Bradford City Council confirmed it had received a petition signed by people in the Lumb Lane area of the city.
A spokesman said: "A petition will be received at tomorrow's full council meeting asking to 'stop, ban and move prostitution from Lumb Lane and neighbouring streets'."
The petition says: "We the undersigned are the affected parties as local businesses, families/residents, faith groups, visitors and all other stakeholders are requesting West Yorkshire Police and Bradford Council to help stop the growing intolerable problem of prostitution.
"[This] is causing devastating economic, social and environmental harmful impact on Lumb Lane and neighbouring community.
The council spokesman said the petition was signed by 1,591 people and as this number is over 1,500 then, in accordance with the council's petitions scheme, "there can be a debate of up to 15 minutes at the meeting".
Deputy leader of Bradford council Imran Hussain, who is responsible for Safer and Stronger Communities, said: "We take concerns around this type of issue very seriously and the council and its partners have been working in partnership to resolve these issues."