Sir Norman Bettison smear claim shocks Lawrence witness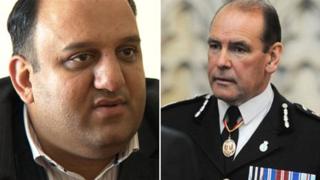 A race relations worker has identified himself as the potential victim of an alleged smear campaign by ex-police chief Sir Norman Bettison.
Mohammed Amran said he was "shocked" to learn of an alleged plot to discredit him before he gave evidence to the Stephen Lawrence inquiry in 1998.
Sir Norman was referred to the IPCC over concerns he may have tried to influence the way a witness gave evidence.
The watchdog is considering the claims.
Sir Norman is yet to respond to the allegations.
The referral to the Independent Police Complaints Commission was made by West Yorkshire Police and Crime Commissioner Mark Burns-Williamson on Wednesday.
Mr Amran, the former Commissioner for Race Relations in Bradford, said: "I was very surprised and shocked when I got the phone call from the Police Commissioner's office to say that 'you are the individual which we are talking about who was being investigated [and who] documents relating to your past have been found'.
"I was not aware of that [at the time of the inquiry]."
Police criticism
Mr Burns-Williamson made the referral after documents were unearthed relating to Sir Norman's time as Assistant Chief Constable of West Yorkshire Police in 1998.
He said the papers "may suggest an attempt to intervene in the course of a public inquiry and influence the manner in which the testimony of a witness, who was due to present evidence before it, was received".
West Yorkshire Police said it had discovered three documents which identified that a man, due to give evidence to the inquiry when it sat in Bradford, was the subject of a police report.
It said the documents had given rise to concerns about the "motivation for the report" and its "appropriateness".
Mr Amran, who was critical of the police when he gave evidence to the inquiry, said he believes the police had "reservations" about what he would say.
"I think they were worried that someone like myself, who I saw as a critical friend, was criticising them in public and saying the truth of what the reality was on the ground," he said.
A spokesman for Mr Burns-Williamson confirmed contact had been made with the witness ahead of the referral but would not comment on their identity.