Eric Pickles says Keighley Town Council 'lost plot' over filming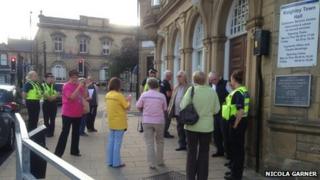 Communities Secretary Eric Pickles has said his home town's council "lost the plot" when it ejected members of the public who tried to film a meeting.
Campaigners tried to film Keighley Town Council, in West Yorkshire, so the authority could be held to account.
Police escorted 11 people from the public gallery on Thursday evening.
Afterwards Mr Pickles posted on Twitter: "#keighleytowncouncil seems to have lost the plot. A good council is one open to public scrutiny."
He later added: "For the town council in my old home town to make such a fool of itself is embarrassing."
'Herded down steps'
Elizabeth Mitchell, 65, was one of those ejected at about 19:00 BST.
She said people had been asked not to film before the meeting but said the campaigners had brought with them guidance issued by Mr Pickles last month which states "councils should thus allow the filming of councillors and officers at meetings that are open to the public".
"The mayor said if we didn't stop they would call the police, which she did. About nine or 10 officers came into the public gallery," Mrs Mitchell said.
"We had to be herded down the steps."
Mrs Mitchell said they would try to film the next full council meeting on 5 September.
The mayor, Sally Walker, could not be contacted for comment.
Last month Richard Taylor, 33, was told the police would be called unless he stopped filming a Huntingdonshire District Council meeting, but was eventually allowed to continue after council members intervened.