Snatched girl Elsa Salama's father jailed again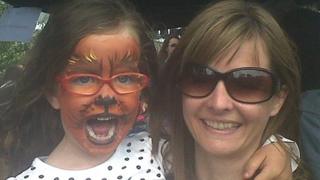 A man who refuses to tell his ex-wife where their six-year-old daughter is has been jailed for a second time.
Egyptian Tamer Salama took daughter Elsa from her English mother Naomi Button, while all three were visiting his home country in December 2011.
Ms Button, from Bramley, Leeds, has not seen or heard from her daughter since.
Salama, a teacher living in Southampton, was jailed for six months by a judge at the High Court and told he had been "cruel beyond imagination".
Ms Button, 39, a leadership consultant, took legal action after Elsa vanished that led to Salama being jailed for breaching High Court orders to arrange the girl's return to England or to reveal where she was.
'Plainly dishonest'
He was initially imprisoned in January 2012, then in January this year a judge ruled he should stay in jail because he was continuing to breach orders.
On Tuesday, another judge imposed a further six-month term after concluding he was still in contempt.
Mr Justice Roderic Wood said he had no doubt Salama could "cause" Elsa's return "should he wish to do so".
"He was shifty, evasive and plainly dishonest," said the judge after hearing evidence from Salama.
"The egregious acts of the father are cruel beyond imagination."
In a statement issued on behalf of Ms Button, her solicitor, Kate Banerjee, said she had undergone "18 long and traumatic months" since her daughter's disappearance.
"Facing Tamer in court and hearing him continue to refuse to reveal Elsa's whereabouts has understandably been harrowing for Naomi," she said.
'Unbearable anguish'
In January, Ms Button made a plea to the public to come forward with any information that may help her locate her daughter.
She told the BBC: "To snatch Elsa away from me was the cruellest thing anyone could do... I appeal from the bottom of my heart to Tamer's family to please give her back to me.
"All they need to do is to make one phone call to the British Embassy.
"The anguish I have suffered over the last 13 months has been almost unbearable at times."
Ms Button and Salama were married in Egypt in 2006 and moved to England in 2007, following Elsa's birth, and lived in Leeds.
They separated in 2009 but continued to live in the family home until Salama moved out in August 2010.