Shipley man held over murder and skate park stabbing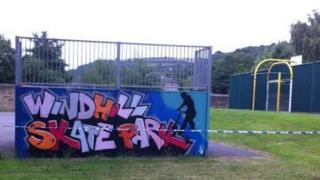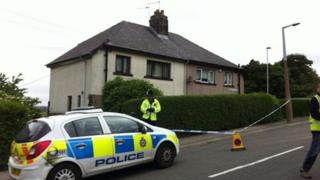 A man has been arrested on suspicion of murdering an elderly woman and the attempted murder of a boy at a park.
The 26-year-old is also suspected of chasing a young girl through a garden in Shipley, West Yorkshire.
Louisa Denby, 84, was found dead at her home on Monday by police investigating the stabbing of a nine-year-old boy at a nearby skate park.
The boy is in a stable condition in hospital and police said that a knife had been recovered.
He was taken to Leeds General Infirmary by air ambulance following the attack at the Carnegie Skate Park in Shipley, at about 16:40 BST on Monday.
Five men have been arrested in connection with the incidents. One has since been released without any charge, and police have said they are not looking for anyone else.
Look North crime correspondent John Cundy said the 26-year-old man being held on suspicion of murdering Mrs Denby is believed to be her grandson.
'Numerous stab wounds'
The three incidents appear to be linked, according to police.
Det Supt Lisa Griffin said: "The nine-year-old boy was out playing and was returning home for a drink when he was approached by a male and with no prior warning and for no reason known to us at this time he was attacked with a knife - a single stab-wound causing him injuries to his chest and his arm."
"Ten minutes after that attack an eight-year-old girl was chased through her garden at home [on Prospect Grove]. Nothing untoward happened to her.
"As the inquiries continued in the afternoon and evening yesterday, we were taken to an address on Prospect Mount where we discovered the body of an 84-year-old woman."
Mrs Denby, who neighbours said was a retired teacher, was found with "numerous stab wounds" just before midnight.
The 26-year-old man was arrested after being spotted by a member of the public in Westfield Lane, Idle, in nearby Bradford, at about 04:10 BST.
Police said they did not believe the nine-year-old boy was related to Mrs Denby.
The skate park is about 300m (984ft) from Prospect Mount.
Both the park and the area around the house have been cordoned off, as well as a number of other locations in the Windhill area.
Eli Lou, 18, told the BBC he had tried to help the boy after he was stabbed and said children in the area were now "petrified".
"They should be able to walk around the streets with no-one hassling them, but not anymore," he said.
'Massive police presence'
Mrs Denby's neighbour, Jackie Smith, said: "It all seemed to happen around teatime.
"There were helicopters but it quietened down for a bit. Last night I could hear [police] breaking her door down, I assume because there was nobody answering.
"She was such a good neighbour and she was really respected down this road.
"She was my husband's school teacher. She was absolutely lovely."
Shipley councillor Vanda Greenwood, who was born in the area, said: "I have never known anything so horrific as this ... it's just terrible."
She said there was a "massive police presence" in the area.
Victoria Bottomley, who lives next door to the nine-year-old boy and his family, said the attack was "devastating".
"He's a nice kid. He goes on to the park with his skateboard and his dad shouts him in for his tea. He's a lovely kid.
"We heard the father shouting for help and we didn't know what had happened but just saw ambulances and police appear.
"I saw him being carried away. It was really upsetting, poor child."
David Jacobs, who lives near Mrs Denby's house, said the community was "shell-shocked".
He said: "I know the little boy because he plays with my son, it's tragic.
"He's a very nice, normal lad who likes to play on his scooter and at the park and play on his bike."
Another 26-year-old man is also being held in connection with Mrs Denby's murder.
A further two local men aged 18 and 29 are being held in connection with the boy's stabbing.
A 24-year-old man has been released without charge, West Yorkshire Police have confirmed.