Leeds child heart unit death rates 'worst in England'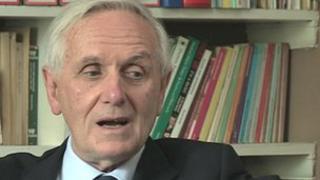 A leading expert on hospital mortality data has told the BBC he would not send his child to the Leeds children's heart unit because of its death rates.
Prof Sir Brian Jarman of the Dr Foster research group at Imperial College said mortality rates for planned operations at Leeds were the worst in England.
He has analysed data from the country's 10 children's heart units.
Yvette Oade, the chief medical officer at Leeds, said she refuted his claims and "parents shouldn't be concerned".
She said the "only validated data" was that provided by the National Institute for Cardiovascular Outcomes Research (Nicor), which produces official mortality statistics for children's heart units.
"We are within the limits of the statistical analysis of the data and we will be working to ensure that the service we provide… continues to be a safe one and continues to improve," she told the BBC's Inside Out programme.
'Relative risk ratio'
Prof Jarman says that between 2009 and 2012 mortality rates in the Leeds children's heart unit for planned operations were the highest of the 10 units in England.
Of the 485 admissions to Leeds in those four years, eight children died compared with an expected number of 5.03. That translates to a so-called relative risk ratio of 158.93 - more than double the figure of 70.42 for all 10 hospitals.
The only other hospital with a worse-than-expected death rate was Guys' and St Thomas' in London where five children died from its 442 admissions compared with an expected figure of 4.10 (a relative risk ratio of 122.04).
The best figures were at Newcastle upon Tyne Hospitals Trust, where one patient died compared with an expected 3.04 (relative risk ratio of 32.92) among its 303 admissions.
Prof Jarman acknowledged that the number of deaths was small but said the data was checked against controls to ensure there was only a small chance of random findings.
"The figures are not very high but if your child is one of those it does not matter," he said.
"Personally, if it were me, I would not take my child to Leeds because it [the mortality rate] is much higher than the other hospitals.
"For electives [planned operations], I would certainly go to the best place with the lowest mortality.
"I don't think travel times make any difference at all for electives. I would be willing to drive anywhere in the country to get the lowest death rate for my child."
However, he said this was not an argument for stopping surgery at the Leeds unit but should be an incentive to improve it by committing more resources.
Flawed analysis
Ms Oade, who was appointed chief medical officer at Leeds Teaching Hospitals Trust, said: "I absolutely take on board that looking at mortality is an important thing for the NHS to do, but I would refute his statement with regard to our service."
She said that even though Nicor's data placed Leeds in the higher level of risk since 2009 "we are within the normal limits and we are not outside those areas".
Asked whether parents should be concerned, she replied: "No, parents shouldn't be concerned."
In April, Sir Roger Boyle stepped down as director of Nicor after he also said he would not want his daughter treated at Leeds General Infirmary's heart unit.
Earlier this month, a controversial plan to reform children's heart surgery in England was suspended after an independent review ruled it was based on flawed analysis.
The NHS had planned to concentrate care in fewer, bigger centres by ending surgery at Leeds General Infirmary, Glenfield Hospital in Leicester and the Royal Brompton in London.
Health secretary Jeremy Hunt has set NHS England a deadline of the end of July to come up with the next step in the process.
How Safe is Leeds Children's Heart Unit? An Inside Out investigation at 19:30 BST, Monday 1 July.