Bradford Cartwright Hall's Lowry loaned to Tate Britain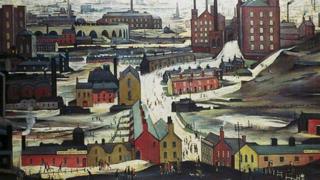 An LS Lowry picture housed in a Bradford gallery has been loaned to curators for a major exhibition of the artist's work at Tate Britain.
Industrial Landscape (Ashton-under-Lyne), painted in 1952, normally hangs in the Cartwright Hall art gallery.
The oil on canvas painting shows a mosaic of mills and terraces alongside smoking chimneys and a viaduct.
The show, starting on Wednesday, is the first by a public institution in London since Lowry's death in 1976.
Laurence Stephen Lowry (1887-1976) represented the experiences of the 20th-century working class in many of his paintings and developed a distinctive style.
The loaned painting is to return to Cartwright Hall later in the year and has been replaced with a work by Bradford-born David Hockney.