Bridgewater Place building work 'may not start for a year'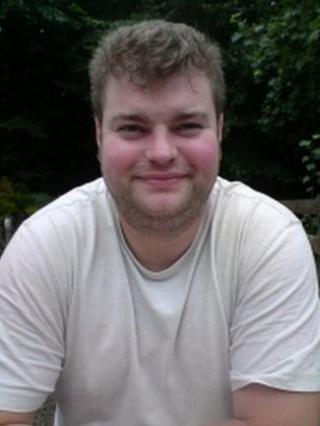 Work to tackle the effects of high wind around a 32-storey building in Leeds where a man was killed by a blown-over lorry may be delayed, an inquest heard.
A solution to the problem at the 367ft (112m) tower has been "intractable", the owners told Leeds Coroner's Court.
The hearing comes after Edward Slaney, 35, was crushed to death in March 2011 at Bridgewater Place.
The inquest was adjourned last year after evidence emerged of the building's effect on wind speeds.
'Freakishly high'
The adjournment allowed for a Crown Prosecution Service investigation, which is continuing, as to whether any criminal offences had been committed.
Mr Slaney died when the lorry "floated through the air like a hot air balloon" in gale-force winds and landed on him, the court previously heard.
"Freakishly high" wind speeds of between 67mph and 79mph were recorded at Bridgewater Place on 10 March, the day Mr Slaney, of Sowerby Bridge, West Yorkshire, died.
After the inquest resumed Nicholas Sinfield, a director of the partnership that owns the building, said consultants tried nearly 30 different combinations of baffles and other structures to find a solution.
A planning application for the engineering work, including gantry-type structures over the road, will not be ready until later this year and construction will probably not take place until 2014, Mr Sinfield said.
Pedestrians blown over
Mr Sinfield told coroner Melanie Williamson, the project would not be delayed by legal wrangles over who should pay for the engineering work.
He said the partnership would foot the bill, even though it may take action to claim money from other organisations.
The hearing was told of more evidence of problems caused by high winds, well before Mr Slaney's death at the north end of the building.
It has already been told about pedestrians being blown over on windy days.
On the day Mr Slaney died, the wind was strong enough to smash a pane of glass in the building's revolving doors, the coroner was told.
The building was opened in 2007.