Thieves in North Yorkshire steal £25,000 bronze statue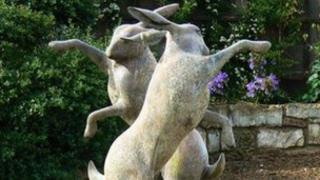 Police in North Yorkshire are hunting thieves who stole a £25,000 statue from the garden of a house in North Yorkshire.
The bronze sculpture is of two dancing hares and is one of a limited edition of 13.
Police said it was stolen near Harrogate last week.
PC Charlie Ferguson said appealed for art or scrap metal dealers who may have been offered the item to contact the North Yorkshire Police.