West Yorkshire Street Angels patrols head to Spain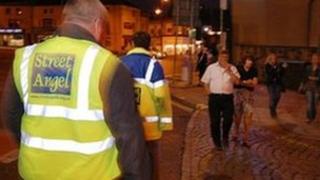 A group in Halifax which helps people on the town's streets at night is setting up a branch in a Spanish holiday resort.
The Street Angel Christian Nightlife Initiative sees volunteers patrolling the streets to help deal with alcohol-fuelled anti-social behaviour.
A pilot scheme has been launched with 24 volunteers in Santa Ponsa, Majorca.
The group said they hoped to expand the scheme to the adjoining resort of Magaluf.
The Street Angels project was established in Halifax in 2005. The organisation said there were now more than 100 similar schemes operating across the UK.
Volunteers wear distinctive jackets and work alongside police at weekends, reporting incidents of violence and helping people who have become vulnerable during a night out.
Street Angels founder Paul Blakey said the idea was supported by the Spanish police and had been well received in the resort.
"Certainly bar owners in Magaluf are wanting to see a change in the image," he said.
"There is a new a hotel that has opened that plans to up the people who come in and try create a better and more mixed resort."