Fake Facebook trader caught selling on social media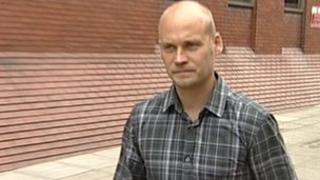 A man caught selling more than £30,000 of fake goods via a social network site has been given a suspended jail sentence.
Gavin Brammah, of Meltham, Huddersfield, was given a nine-month custodial sentence suspended for two years at Leeds Crown Court.
He pleaded guilty to 24 charges of offering counterfeit goods on Facebook.
West Yorkshire Trading Standards, said the case showed "criminals cannot hide behind the blanket of social media".
Brammah also asked for 22 other charges to be taken into account.
'Clothes party'
He was also ordered to do unpaid community work and to be electronically monitored for two months.
Trading Standards received information Brammah was selling counterfeit items via his Facebook profile.
In March 2012, a post on his profile stated he was having a "clothes party".
Trading Standards officers went to his home and found a large room set up as a shop-floor to sell the counterfeit goods.
More than 400 fake designer-branded items were seized including counterfeit UGG boots, Adidas tracksuits, Jo Malone candles, Mulberry handbags, and Chanel perfume with a high street value of more than £30,000, Trading Standards said.
Councillor Bill Urry, who sits on the area's Trading Standards committee, said "honest manufacturers and retailers lose millions of pounds each year and jobs are lost" because of counterfeiting.