More flooding in Calderdale would 'finish' towns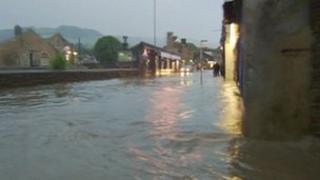 A pressure group has warned that any more flooding in Calderdale, West Yorkshire, would "finish" local towns.
The warning comes on the first anniversary of flash floods that badly affected towns in the Calder Valley.
The group is due to hand a 3,000-signature petition to the prime minister calling on the government to do more to prevent future flooding.
The government said it was spending "more money than ever before" on flood prevention.
The Upper Calder Valley Flood Prevention Action Group (UCVFPAG) was formed after flash floods twice hit the towns of Hebden Bridge, Todmorden and Mytholmroyd last summer.
'Cease to exist'
More than 500 homes and businesses in Hebden Bridge were flooded after heavy rainfall overwhelmed the drainage system in June 2012.
Barry Greenwood from UCVFPAG said more needed to be done to prevent future flooding.
"If this happens again, this valley is finished, " he said. "The whole economy will just cease to exist anymore.
"We rely a great deal, especially in Hebden Bridge, on tourism. The tourism will end.
"We rely on the manufacturing in Mytholmroyd. There are many companies in Mytholmroyd, some of which have lost £250,000. They can't sustain it."
Tim Swift leader of Calderdale Council said that despite lobbying he was disappointed at the lack of action from the government.
He said: "We do need substantial additional investment over the next four to five years in major flood schemes and that is only going to be possible with government support."
A Department for Environment Food and Rural Affairs spokesperson said: "We are spending over £2.3bn on tackling the risk of flooding.
"Together with contributions from other partners, this is more money than ever before."