Leeds campaigners welcome child heart surgery decision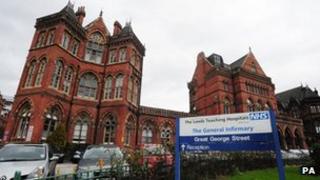 Campaigners against plans to stop children's heart surgery in Leeds have welcomed the announcement that the proposals have been halted.
Health Secretary Jeremy Hunt said the decision to stop surgery at Leeds General Infirmary (LGI) was flawed.
The NHS had planned to concentrate care in fewer, bigger centres.
Sharon Cheng, from the Leeds Save Our Surgery (SOS) group, said members were "pleased and relieved" by Mr Hunt's decision to launch a new review.
'Flawed analysis'
His announcement showed the campaigners were right to challenge the decision to stop children's heart surgery at the LGI, Ms Cheng said.
"If we had not taken this action, implementation would have gone ahead, and patients and families in our region would have been left with a far worse service than they currently receive."
Kerry Singleton, from SOS, said: "The review was done wrong and now it needs to be done fairer."
Ms Singleton, whose daughter was treated at the LGI, said any new review of the children's heart unit should be carried out as soon as possible.
In his statement to the House of Commons, Mr Hunt said the outcome of the Safe & Sustainable Review was based on "flawed analysis" and left too many questions unanswered.
Listening to Mr Hunt's statement, Greg Mulholland, Liberal Democrat MP for Leeds North West, tweeted: "To all those who said Safe & Sustainable should be forced through without scrutiny, you were very wrong. At last #Accountability."
Stuart Andrew, Conservative MP for Pudsey, Horsforth & Aireborough, tweeted: "Common sense prevails. Great news. Review flawed and must start again!"
Announcement 'disappointing'
John Illingworth, chair of the Joint Health Overview and Scrutiny Committee for Yorkshire and the Humber, said Mr Hunt had made a "very mature and thought-through decision".
The original review into children's heart surgery in England had been biased, said Mr Illingworth.
A "proper decision-making process" in which everyone could take part was now needed, he added.
Michelle Elliot, from Fragile Hearts, a group of parents who support the introduction of fewer, larger children's heart surgery units, said Mr Hunt's announcement was disappointing.
"We still have many families who have been waiting 12 to 18 months for their children to go into Leeds for surgery and that's not happening because of cancellations and emergencies," she said.
"The whole point is this wouldn't happen if it was in a larger centre."