Students' backlash at Leeds Met Uni name change plan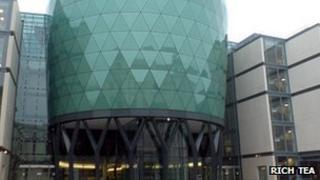 Students against plans to change the name of Leeds Metropolitan University have said the £250,000 cost should be better spent on improving facilities.
Professor Susan Price, Vice Chancellor, said the university had outgrown the Metropolitan name.
The suggested new names are Leeds Beckett University, Leeds Headingley University or Leeds Ridings University.
Student Robert Lazenby said: "The swimming pool alone is the same as it was in the Victorian age."
A Facebook group, Save Leeds Met Uni - Don't change the name, has attracted more than 3,000 members and more than 400 people have signed an online petition.
Mr Lazenby, a sport and exercise science student, said: "Changing the name is a nice thing to do, it's not a need to do, especially when students could name hundreds of things around the university that need improving.
"We need more computers in the library, some of the sports pitches need repairing, I could go on.
"When you think of all the associated things that would need changing - banners, signage, sports kits, it's going to end up being a lot more than £250,000."
A number of comments on the Facebook group have called for the money to be spent on facilities.
One member said: "A better free weights gym at Headingley, it looks like someone's converted a garage.
"Supposedly this university is meant to have some of the best facilities in the UK. Where are these facilities?"
A report presented to the university board said there was evidence to suggest Metropolitan "indicated a lower quality product".
It also said a renaming would have a "positive impact on student recruitment, in particular in international markets".
David Alcorn, president of the student union, said the name change was a good idea.
"There is still very much the perception around the country that mets are less of a uni and we want to shake it off completely."
He added: "Some students have issues about the cost but what they don't realise, and I do because I'm in talks with the uni, is that money has been set aside to upgrade facilities."
The university said: "We appreciate that any change of name will prompt debate and discussion, both of which are tenets of a thriving university community.
"We welcome our students' feedback on the proposed names for our university and would encourage them to register this via our website."