Mid Yorkshire NHS Trust staff union vote for new strike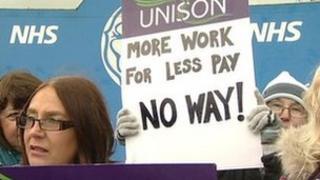 Staff at Mid Yorkshire Hospitals NHS Trust have voted to take further industrial action over proposed job losses and pay cuts.
Union Unison said clinical nurse specialists, dental nurses and administration staff were affected.
Hundreds of administration and clerical workers staged nine days of strike action in November and January over plans to re-grade jobs.
The trust said it needed to make cuts of £25m by April 2014.
Unison said 2,500 members were balloted at hospitals in Wakefield, Dewsbury and Pontefract and the "vast majority of those were prepared to take further action".
About 20 jobs are under threat, the union believes.
'Avoid a strike'
Jim Bell, Unison's regional organiser, said: "There are still major issues to discuss regarding down-banding of pay and the length of time our members' pay is protected from the effects of that.
"We have a mandate for further industrial action and we are seeking talks with the management to reach agreements and avoid a strike."
Graham Briggs, director of human resources at The Mid Yorkshire Hospitals NHS Trust, said: "We are working with Unison with support from ACAS to find a constructive way forward."
He previously said the trust had to tackle its "underlying financial debt" by reducing its wages bill.
"We will continue to look for every opportunity to save money and provide more efficient ways of delivering both frontline and support services," Mr Briggs said.
"We believe that securing longer term employment opportunities for our staff, albeit sometimes on a lower grade with a sensible pay protection period, is a much better alternative to job losses."