Transpennine Real Ale Trail discourage stag and hen parties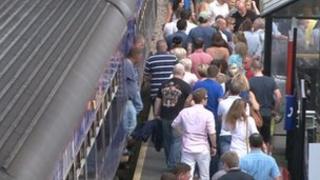 Pub landlords on a popular railway ale trail have introduced restrictions on alcohol sales after they claimed the route had been "hijacked" by parties.
The Transpennine Real Ale Trail includes pubs on or near stations between Batley, West Yorkshire, and Stalybridge, Greater Manchester.
On Saturdays, some pub landlords will not sell lager and shots in an effort to try and reduce binge drinking.
Northern Rail said the route was becoming like a "city centre".
Nearby residents had also complained of anti-social behaviour from weekend visitors.
Martyn Guiver, head of crime management for Northern Rail, said they were managing the ale trail like a "major event" at weekends.
'Urinating and trespass'
"It can be quite ridiculous, with lots of anti-social behaviour," he said.
"We get people urinating, there's trespass [and] there's the general behaviour you get with drunken groups - noisy, rowdy, disturbing the neighbours, causing our staff problems and other passengers problems."
"It's what you would see in a city centre at a weekend."
Gary Brammall, landlord of the Riverhead pub in Marsden, said the trail had been "hijacked" by stag and hen parties.
"We are just a village pub and we just can't cope with the numbers that are coming in," he said.
"We are a real ale pub, we've got a brewery on site, we are all about the real ale.
"The guys who are coming over and doing it are not real ale enthusiasts and obviously that's what we are about and that's what we want to bring it back to."