Bradford couple married for 87 years visit Buckingham Palace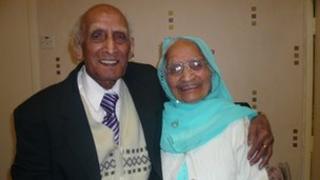 A couple married for 87 years have travelled to Buckingham Palace to attend a royal garden party.
Karam Chand, 107, and his wife Kartari, 100, from Bradford, tied the knot in 1925 in the Punjab in northern India.
The couple were among scores of guests at the event being hosted by the Queen and the Duchess of Cambridge.
Speaking before the event Mr and Mrs Chand's son Paul said his parents were thrilled to have been invited.
He said: "It's very difficult to explain how exciting this moment is.
"The secret of marriage is that it's give and take.
"I've never seen my mum and dad argue, what ever one says the other accepts."
Mr and Mrs Chand, who wed in a Sikh ceremony and moved to Bradford in 1965, were invited to the garden party in recognition of the length of their marriage.
They have eight children and 28 grandchildren.
Among the guests at the garden party were Olympians, Paralympians and London 2012 officials, including swimmer Rebecca Adlington and Helen Glover, the rower who won Team GB's first gold medal at the games.