West Yorkshire M62 hard shoulder scheme tested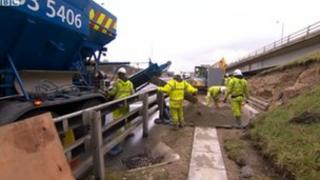 The use of the hard shoulder of the M62 as an extra lane for vehicles is being tested under typical traffic conditions this week.
Overhead message signs, between junctions 27 and 28 in West Yorkshire, would tell drivers when to use the hard shoulder, the Highways Agency said.
Variable speed limits and lane closure information will also be displayed in both directions until Sunday.
The managed motorway scheme would cut congestion, the agency said.
The message signs will be turned on by operators in a regional control centre in Wakefield.
About 150,000 vehicles use the stretch of motorway daily,
The agency said the hard shoulder, when not in use as a lane, should be used by motorists for emergency purposes only.
The extended period of testing the new system follows four shorter tests carried out on Sunday mornings.
If the week-long test is successful this section would become operational from 20 May, with signs then being set according to traffic conditions.