Fatal Bradford City fire's 28th anniversary marked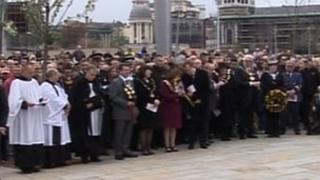 A memorial service has been held to mark the 28th anniversary of the Bradford City football stadium fire, in which 56 people died.
The fire broke out during a match between Bradford and Lincoln at the Valley Parade stadium on 11 May 1985.
A 30-minute service was held in the city's Centenary Square at 11:00 BST.
The event was led by the Acting Dean of Bradford, the Reverend Canon Andrew Williams.
The Lord Mayor of Bradford, Councillor Dale Smith, was joined by politicians and council officers, as well as the Mayor and Consort and the Sheriff and Consort of Lincoln. Bradford City footballers also attended.
Many injured
An investigation held into the disaster found the fire had probably been caused by a lit cigarette dropped under the all-wooden stand, igniting litter underneath the steps.
The day had started out as one of celebration as Bradford players paraded the old Division Three championship trophy around the ground before kick-off.
It marked Bradford City's return to the second tier of English football for the first time since before World War II.
But 54 Bradford City supporters and two Lincoln City fans lost their lives with many more injured.
Speaking ahead of the service Mr Smith said: "It is important that we remember on 11 May each year all those who died in this tragedy.
"In some way it touched the lives of most people in the district and people need to reflect and mark the occasion."