'Suicidal' man left alone with noose in Leeds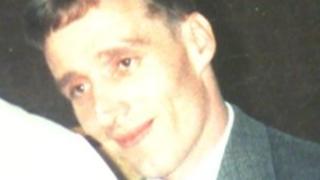 A suicidal man who hanged himself after mental health workers failed to remove a homemade noose from his home was the victim of "lamentable failures", a coroner said.
Bryan Jobson was found hanged at his home in Swarcliffe, Leeds, in 2011.
Wakefield Coroner David Hinchliff said mental health workers Paul Oates and David Bibbings could have prevented the death by removing the noose.
Both men have since been sacked by Leeds Partnership NHS Foundation Trust.
The inquest, which ended on Tuesday, heard both mental health workers went to Mr Jobson's home on Swarcliffe Drive on the weekend of 5 and 6 February 2011.
They found Mr Jobson, 44, "in a suicidal state of mind" and with a prepared noose hanging in the property.
He had been affected by the deaths of two of his previous partners and "was more likely than not suffering with depression", the inquest heard.
'Left him alone'
Mr Jobson was found dead on 7 February.
Giving a narrative verdict, the coroner said: "Bryan was the victim of lamentable failures by two experienced key workers from the crisis resolution home treatment team, who despite... observing the ligature in place and Bryan's suicidal state of mind, left him alone in the house, placing responsibility for Bryan's safety on him.
"[This] enabled him to deliberately end his life by an act of self suspension at his home address."
Mr Hinchliff said Mr Jobson's death could also have been prevented if he had been sectioned under the Mental Health Act.
"They could also have contacted Mr Jobson's family to get someone to stay with him," he added.
In a statement, Chris Butler of the Leeds and York Partnership NHS Foundation Trust said: "Everyone at the trust feels enormous regret about this tragic event.
"Following a disciplinary investigation into this incident, the two members of staff involved were dismissed and a referral has been made to their professional body the Nursing and Midwifery Council regarding their conduct in this case."
After the inquest, Mr Jobson's sister Teresa McDarby said she was unhappy with answers given by the mental health workers at the inquest.
She said: "It's incomprehensible to any normal human being - I said [to the mental health workers] why did you not cut it [the noose] down? Why did you not remove it?
"[They said] we might have faced disciplinary action for removing his property".