'Most sun beds' in West Yorkshire fail safety checks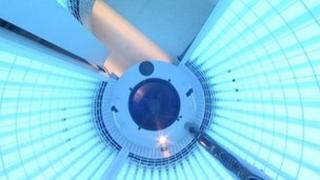 An investigation into sun beds across West Yorkshire found more than 70% failed to meet safety standards, Trading Standards said.
Thirty-five of the 51 sun beds checked by officers exceeded the European safe limit for ultra violet (UV) radiation, of 0.3 watts per square metre.
One sun bed in Wakefield emitted 0.9 watts - three times the legal limit.
West Yorkshire Trading Standards (WYTS) said it would work with tanning salons and manufacturers to help them comply.
'Potential dangers'
WYTS chief officer Graham Hebblethwaite said it "highlighted a very serious issue".
"The results of visits across West Yorkshire were disappointing, but it is hoped that this project will increase awareness and compliance of the safety standards required," he said.
"Although many sun bed users may be aware of the potential dangers of sun bed tanning, including skin cancer, we are concerned that, to some, stronger tubes may be more appealing to speed up the tanning process."
Officers checked 31 establishments in March and April.
Gary Lipman from The Sunbed Association welcomed the investigation.
"Currently, our concern is that not all local authorities have made compliance testing a priority," he said.
"In many areas where salons are being inspected, and are not found to be compliant, enforcement action is often taking too long in our opinion."
In January, researchers from the University of Dundee compared the risk of developing skin cancer from sun beds to tanning in the Mediterranean sun.
They found the cancer risk from sun beds was more than twice that of spending the same length of time in the midday sunshine.