Heart surgery review 'cost over £6m' Leeds MP is told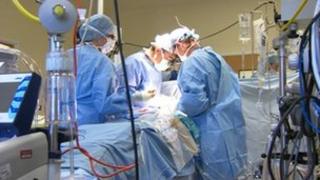 A review of specialist heart surgery units for children has cost more than £6m, a Leeds MP has been told.
Conservative Stuart Andrew said that included £300,000 on legal fees, and another £1.7m on external communications consultants.
A written answer he was given by Health Minister Anna Soubry did not give details of the remainder of the costs.
Ms Soubry said the "Safe and Sustainable review" costs had been incurred since 2009.
Mr Andrew, the MP for Pudsey, is urging NHS England to drop its appeal against a High Court ruling that its decision to cut the number of specialist centres was "legally flawed".
MP's Commons plea
Ms Soubry's answer revealed that £301,000 was spent on legal fees to fight a judicial review brought by the campaign group Save our Surgery against its decision to close the unit at Leeds General Infirmary last month.
Another £1.74m was spent on "external communications consultants".
Mr Andrew told MPs in the Commons on Thursday that NHS England should not appeal against the High Court's ruling.
He said after being given the figures: "This is around £6m in total and now we hear that NHS England plans to add to these costs by appealing a High Court decision and potentially delaying the IRP (Independent Reconfiguration Panel) report.
"Given the time available, is there any way we can urge NHS England not to appeal against the decision , so that we can finally get a resolution to children's heart surgery in this country."
In reply, Commons Leader Andrew Lansley said the decision about whether to appeal was down to NHS England.
The decision on heart units - if it eventually stands - will mean the closure of the Leeds unit as well as those at Glenfield Hospital in Leicester and London's Royal Brompton.