Dairy farmers blockade Morrisons' Wakefield depot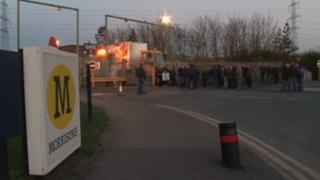 Farmers have blockaded a supermarket depot in Wakefield, West Yorkshire in a protest over the price of milk.
The farmers claim the cost of producing milk is rising and that Bradford-based Morrisons has refused to pay more.
The supermarket is supplied with some of its dairy products from a farmers' cooperative company called First Milk.
Morrisons said it was in discussions with First Milk about the issue and that "blockading First Milk's customers is not the answer in this situation".
The company added: "It is untrue that we have a set position on what we are prepared to pay."
Stephen Frankland, from Farmers for Action, said Morrisons were "dragging their heels" on the price of cheese and that the protest was in response to stalling negotiations.
"If First Milk cannot get enough money into the kitty they will have to pay less to farmers," said Mr Frankland.
He added that further protests were planned.
A spokesman for First Milk said: "Over the last few days we've had positive discussions with Morrisons.
"We have a follow up meeting in a few days time."