Rare Charlotte Bronte poem sells for £92,450 at auction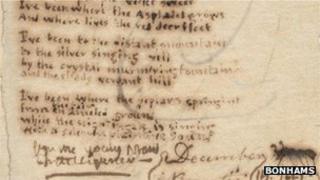 A manuscript of a poem written by British author Charlotte Bronte has been sold at auction for £92,450.
The work, titled I've Been Wandering in the Greenwoods, was expected to fetch between £40,000 and £45,000.
It was written in 1829 when she was just 13 years old. The writing is so small the poem is difficult to read without a magnifying glass.
Auctioneers Bonhams said the manuscript had been bought by an unknown buyer from abroad.
Luke Batterham, a valuer at Bonhams, said it had attracted a huge amount of interest from around the world.
"It's a very attractive and sought after item so I'm not overly surprised that it sold at that price," he said.
Ms Bronte wrote the poem at her home in Haworth, West Yorkshire. It is signed C Bronte and dated 14 December 1829.
The poem was published in a family literary magazine, which she was editing at the time. Her brother and sisters also contributed to the publication.
World-wide interest
"Poetical manuscripts by Bronte are rare, and it is even rarer that any are offered at auction, only two others being traced as offered in the past 40 years," said Mr Batterham.
He said the manuscript illustrated Bronte's "burgeoning literary ambitions".
"When looked at such manuscripts put you right in the middle of this extraordinary family," he said.
"Charlotte, through her writing and the romance of her story, is enormously popular in Britain, America and all over the world so the interest in her manuscripts is great, both with private collectors and institutions."
The poem was among a collection of poetical manuscripts owned by poet and scholar Roy Davids.