Bollywood live opera auditions in Bradford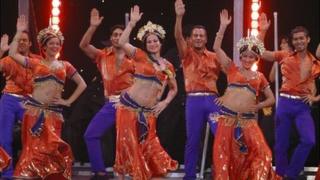 Auditions have been taking place in Bradford for Bollywood Live, a BBC production to be held in the city.
It is an adaptation of the opera Carmen by Bizet, and will include original music and pop songs.
Its lead cast is yet to be announced but the production has begun to recruit volunteers from the local community for the song and dance routines.
The event will take place on 9 June in Bradford's City Park with a simultaneous broadcast on BBC Three.
Among those hoping to win a part at the auditions on Saturday was A level student Adil Zubair, who has been dancing from a young age.
"I have performed at small events but this is a big opportunity for me.
"I would love to get the chance to share the stage with professional dancers," he said.
Post-graduate student Kamal Kaan has already been told he will be taking part: "Coming from a traditional family none of them, including my nine brothers and sisters, have seen me perform on stage.
"It'll be nice for them to watch me in a Bollywood-style show which will be more familiar to them."
'Professional and extravagant'
The volunteer performers will work alongside professional actors and dancers.
Choreographer Honey Kalaria said: "We've seen some fantastic and extremely talented members of [the] public."
"It'll be a challenge for me to use different skills and experiences to make sure the routines on the night look professional and extravagant."
Director Indra Bhose said they would also be recruiting for backstage roles.
"Bollywood Live is a community event. For the scale and spectacle of it we need local people even to help with costume and make up."
The music for the production has been composed by Kuljit Bhamra who previously worked with Andrew Lloyd Webber on the West End musical Bombay Dreams.
Listen to a full report on auditions for Bollywood Live on the BBC's Asian Network at 13:00 BST and 17:00 BST on 8 April.