Kirkheaton vicar's £10 handout raises thousands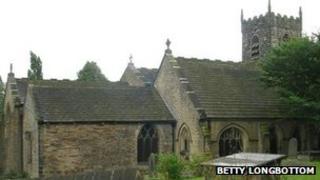 A vicar who handed out £10 notes to his West Yorkshire congregation and asked them to invest it to help raise cash has had his prayers answered.
The Rev Richard Steel distributed £550 last November in the hope of raising money for repairs at St John's Church in Kirkheaton, near Huddersfield.
Members of the church had used the cash to raise about £10,000, meaning the work could now go ahead, said Mr Steel.
"It's inspired people. It's just taken off fantastically," he said.
Parable of talents
While almost £500,000 has already been raised over the past seven years towards repairs at St John's, Mr Steel said he decided to give his congregation a new challenge to find the remaining cash.
Inspiration came from the parable of the talents, in which Jesus tells the story of a man who entrusts money to his servants, he said.
Members of the congregation used the money to buy materials and make products which they could then sell at a profit.
The money raised would go towards installing double glazing, a new floor, toilets and heating, said Mr Steel.
"It's inspired people and they've really put their creativity into it. That was always my idea - that everybody could take part," he said.