Waste permits to be introduced by Bradford Council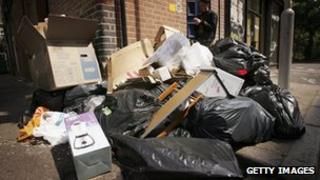 People in Bradford will need a permit to use the city's waste and recycling centres under new rules due to come into force this summer.
The scheme has been introduced to cut back on people coming from outside the area to dump their rubbish.
The city's council said the permits would save £160,000 a year.
But the move has been criticised by opposition councillors as "not well thought out" and an unnecessary layer of bureaucracy.
The permits aim to cut back on the cost of running the city's waste and recycling centres by ensuring they were "only used by the residents of Bradford district who fund them".
'Ridiculous'
People will have to prove they live in the area, by showing their council tax bill, before being issued with a permit.
Labour councillor Nazam Azam described the problem of people coming from outside the area as being on "a much bigger scale" than was realised.
The council estimated that 12% of people who currently use Bradford's waste and recycling centres are not local.
Conservative councillor Zameer Shah said that the new scheme was "not well thought out" and echoed the concerns of his leader, Glenn Miller, by saying that fly tipping would increase.
However Mr Azam dismissed the concerns as "ridiculous" saying that all people who wanted to continue to use the facilities had to do was fill in a "very simple form".
A similar system is currently operated by both Wakefield and Kirklees Councils although neighbouring Leeds said that it had no plans to adopt a copycat policy.
The new permits will be available from April but will not be enforced until June.