Kirkgate Market offers rent reduction to new traders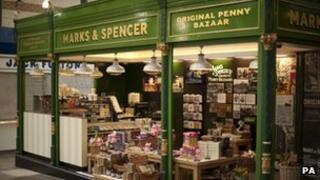 Kirkgate Market in Leeds plans to attract new stallholders by offering them reduced rent for one year.
The move, which includes a rent-free trial period of five days, will be available on 20 stalls in the outdoor section of the market.
It is part of the National Market Traders Federation (NMTF) nationwide First Pitch scheme.
Leeds councillor Richard Lewis said the scheme was a great way to "encourage entrepreneurs across the city".
Joe Harrison, chief executive of the NMTF, said, "Many of our well-known brands started life on the markets and we know many people want to take that leap into starting their own business."
First Pitch is designed to support new market traders in setting up their businesses. One hundred traders, chosen from across the UK, are given the opportunity to trade on their local market for 12 months at a discounted rate.
A council spokesperson said that the exact rate of the discount had not yet been decided as it depended on the number of people who wish to take up the scheme.
Participants will also receive support from an NMTF mentor.
Applicants will be judged on a range of measures, including the quality of their product, its suitability to the market and the display of their stall.