Yorkshire to get £10m Tour de France cash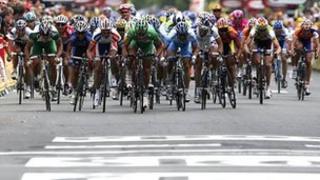 The government has confirmed it will back the Yorkshire leg of the Tour de France with a £10m grant, days after rejecting the idea.
A bid for funding had been rejected by the minister for sport Hugh Robertson who questioned the county's planning around the event.
But Julian Smith, the Conservative MP for Skipton and Ripon, said the government had now changed its mind.
Tourism organisation Welcome to Yorkshire applauded the rethink.
On Tuesday a letter received by Welcome to Yorkshire from Mr Robertson said the cash would not be made available.
He said in the letter: "It is with regret, that you do not appear to have in place any arrangements to deliver the event outside Yorkshire.
"There appears to be nothing in the business plan about the Cambridge to London leg of the event."
'Billions watching'
In a statement on Wednesday, Mr Smith said: "This fantastic news comes after months of hard work at Westminster and across Yorkshire from members of parliament.
"The investment will support Yorkshire in making sure we capitalise on the opportunities that come from having the world's largest annual sporting event in our county.
"I will now be working closely with the government and Yorkshire's Tour de France team to ensure we have the structure and governance in place to deliver an outstanding event next year that showcases Yorkshire to the world."
He added: "No-one can underestimate what having the Tour de France in Yorkshire means.
"There will be billions watching on television, millions on the streets and thousands of hotels, bed and breakfasts, shops, pubs, restaurants and other tourist destinations benefiting.
"We will also see investment in our roads and facilities along the route that will provide long-lasting positives for Yorkshire.
"This £10m of government support will allow us to move forward to ensure that this is the greatest ever Grand Depart."
Gary Verity of Welcome to Yorkshire said he was "thrilled and delighted at the news".
The Department for Culture, Media and Sport has been asked for a response to the change of heart.