Water and power firms reveal £11bn Yorkshire and North East investment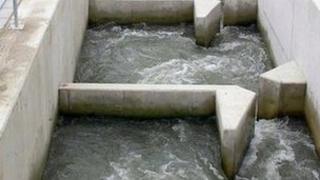 Four utility companies have revealed a multi-billion pound investment in water and power networks across Yorkshire and the North East.
Yorkshire Water, Northumbrian Water, Northern Gas, and Northern Powergrid said the plans aimed to tackle future changes in population and climate.
The firms said a total of £11bn would be invested over five years.
New storm tanks, gas pipes and "smarter" electricity grids are included in the investments.
Water and sewage networks would be adapted to deal with flooding while old metal gas pipes would be replaced.
'Change and uncertainty'
In a statement the firm said "population growth is expected to mean there will be more than a million more people living in Yorkshire and the North East by 2035.
"Climate projections reinforce a picture of change and uncertainty with both droughts and floods occurring in 2012 and scientists predicting these trends will continue with longer, hotter dry spells and more extreme weather events."
The firm said it wanted to reduce the risk of flooding incidents "by increasing the capacity of the sewer network through means such as the creation of underground storm tanks".
Northern Powergrid's chief executive Phil Jones said the investment was to "prepare the UK's electricity networks for the move to smarter power grids needed for a long-term low carbon future".
Northern Gas Networks said it was replacing ageing metal gas mains with plastic equivalents to "reduce gas leakage and enhance network reliability".
Andrea Cook, Chairwoman of the northern region of the Consumer Council for Water said: "The Consumer Council for Water welcomes Yorkshire Water's investment as we work hard to encourage companies to return money to their customers by making improvements in services.
"Many households are under financial pressure due to rising costs and with more struggling to pay their water bill, we want water companies to tell their customers what they are getting for their money."