Keighley rape trial: Bilal Hussain and Shazad Rehman jailed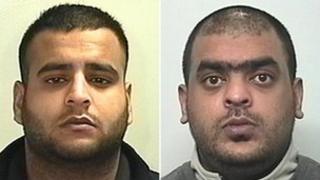 Two men have been jailed for drugging and raping vulnerable under-age girls they found walking the streets.
Shazad Rehman, 30, was jailed for 18-and-half years and Bilal Hussain, 23, was jailed for 17-and-a-half years at Bradford Crown Court.
Judge Jonathan Rose said the men "engaged in a course of conduct which has become increasingly and depressingly familiar in this country".
Hussain, of Leeds and Rehman, of no fixed address, raped three girls.
'Fresh meat'
The pair repeatedly raped one girl and also raped two other victims they picked up in the Keighley area of West Yorkshire.
The pair had denied nine rape charges but the jury found them guilty after two days of deliberation.
The court heard Rehman and Hussain plied the girls with alcohol and cannabis and took them to hotels for sex.
Rehman referred to the girls as "fresh meat", the court heard.
Prosecutor Michelle Colborne QC had told the court: ''They acted together travelling from their various home addresses in Leeds and Halifax to the Keighley town centre where they specifically targeted vulnerable girls, all under-age."
She said some of the girls had difficult backgrounds or were emotionally fragile.
''They were out of their depth,'' the jury was told.
''They were supplied with strong alcohol and cannabis, enticed to believe they would have fun, that they were special.
"In truth what was on offer was beyond their control."
Ms Colborne had told the court the defendants "exploited the girls' lack of maturity, their lack of life experience".
'Keep them forever'
Jurors heard drink and drugs were given to the girls to lessen their inhibitions, or in some cases to leave them incapable of resisting sexual advances.
Some of the rapes took place at the Alder House Hotel, Batley, and the Campanile Hotel in Bradford, after the complainants had been picked up by the defendants in a silver Audi, the court was told.
After one of the girls told Hussain she thought she was pregnant, he said she had to terminate the pregnancy or he would kill the baby himself.
Ms Colborne said Rehman had boasted to a woman they could get any girl they wanted.
''He said they had no reputation and if they got them young enough they could keep them forever,'' she told the court.
Both men were also convicted of supplying cannabis and a charge of conspiring to intimidate a witness.