Wakefield model railway shop closes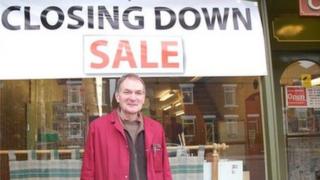 A decades-old model railway shop in Wakefield has finally hit the buffers with the owner admitting the hobby just doesn't have the pull it once enjoyed.
Stuart Buckley, owner of the Wakefield Model and Craft Centre on Dewsbury Road, said: "Making models is now unfashionable - and visiting shops has become rather unfashionable it seems."
His shop closed for the last time this weekend after he had worked there for 45 years.
Mr Buckley started at the shop in 1968 as a "clueless" 15-year-old, he said.
Now he has retired and the shop has shut for good as no buyer was prepared to take it as a going concern.
'Pull the blind'
The two-floor shop had an "everything must go" closing down sale and then shut without big fanfare at the weekend.
Ahead of its closing Mr Buckley, 60, said: "We'll just pull the blind down and shut the door."
The business was started in 1953 as a DIY shop by Mr Buckley's parents.
On joining the family firm, model railway enthusiast Mr Buckley asked: "Why don't we stock a few model railway pieces?"
Gradually the model business grew and the store branched into plastic construction kits.
He said the bulk of his customers were always adults and during the 1970s the business saw a "huge surge" in steam railway nostalgia.
John McGoldrick, curator of museum collections at the National Railway Museum in York, suggested younger people had now only seen steam trains on a "heritage basis".
He said the museum has recently run a very successful model railway exhibition but said modelling was "less popular" in terms of the total numbers taking part.
Mr McGoldrick said model shops had to become "more specialised and more serious".
He said: "A lot of business is online [but] shops do it better. There's just a lot fewer of them."
'Grown men playing'
Mr Buckley remembered the 1980s as the "golden age" of his business but said since 2008 he had noticed a definite drop in sales.
He suggested the selling of model railways and kits had always been a "pocket money industry" and sales had dropped as people now had less disposable income.
Competition from computer games and the idea of model-making becoming "old-fashioned" had further depleted business.
He said people could not understand "grown men playing trains but there was a lot more to it than that".
A customer visiting on the shop's final weekend said: "I've come in here to have one last look at the old place."
There was not a lot left to see; bare shelves under harsh strip lighting gave only an echo of what the thriving business would have looked like.
Mr Buckley now intends to take a walking holiday in Derbyshire and says he won't miss the shop.
But the high street might regret the loss of independent, specialist retailers.
Wage strain
Michael Weedon of the British Independent Retailers Association said: "I remember a little toy shop my grandparents took me to as a child, now it's a snack shop and such things tug at the heart strings.
"Shops like this are part of the heart of the community and their passing is terribly sad."
"Longer-established retailers have two problems, if the market changes and/or the town becomes less busy."
"Turnover on the high street is falling as consumers' ability to pay is falling. Food price inflation is about 4% and people need to eat. Wages are not keeping pace with inflation."
Mr Weedon said the amount of shopping carried out online, at about 10%, was "not as big as often imagined".
But online sales did not need to take much business away from the independent retailer, just enough "to take out" its profit.
"Profitability makes the difference between survival and death."