Rotherham Borough Council job losses in new budget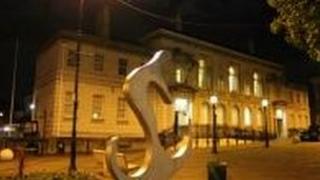 Up to 60 full-time posts at Rotherham council are to be cut as part of plans to save £20m.
The workforce has already been reduced by 1,000 people over the last two years and staff pay has been frozen.
The cuts were announced as part of budget proposals recommended by the council's cabinet for 2013-14.
Council leader Roger Stone said it would continue to "maintain high level services to those who need them the most".
The authority said council tax would not be increased for the third year running.
Other savings will be made in "back office" functions and by joint working with partner organisations.
Mr Stone said: "A further reduction in staff will see between 50 and 60 full-time posts and all staff have been subject to a national three-year pay freeze."
He added: "It is not going to be easy but we believe Rotherham has a long history of innovation in the face of adversity and challenge and this will continue."
Mick Stowe, from Unison, said: "Cuts are coming in thick and fast from national government and having a massive impact on local communities.
"It is a very difficult time."
The proposals will go before the full council in March.