David Ward Lib Dem MP summoned again over Israel comment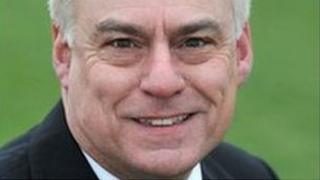 A Liberal Democrat MP has been summoned by party bosses again over comments he made about "the Jews" in Israel "inflicting atrocities on Palestinians"
The party said "further decisions" would be taken about David Ward, MP for Bradford East.
Jewish leaders demanded action following a meeting with Lib Dem chiefs aimed at calming tensions.
Mr Ward was censured by the party's chief whip last month and apologised for any "unintended offence".
But the Board of Deputies of British Jews said the apology had "no credibility".
Jewish News had reported Mr Ward asked if it would satisfy critics if he changed the wording to read "the Jewish community", sparking renewed complaints.
'A fresh issue'
Alistair Carmichael, the Lib Dems chief whip, called a meeting on Thursday with the heads of the board and other bodies including the Holocaust Educational Trust.
A joint statement issued by the groups afterwards said they had been assured that the new comments would be "dealt with as a fresh issue" by the party.
A party spokesman said the MP was on a visit to the Netherlands with a Commons select committee but would be summoned to the whips' office on his return - thought to be at the weekend.
"We are fully aware of the latest comments," he said.
The row first blew up over a posting made by Mr Ward on his website after signing a memorial book to mark Holocaust Memorial Day.
He wrote that he was "saddened that the Jews, who suffered unbelievable levels of persecution during the Holocaust, could within a few years of liberation from the death camps be inflicting atrocities on Palestinians in the new state of Israel and continue to do so on a daily basis".
After initially issuing a strong defence of his words, he subsequently apologised.